Tablet Bottle Filling Linkage Line
I. Sketch Map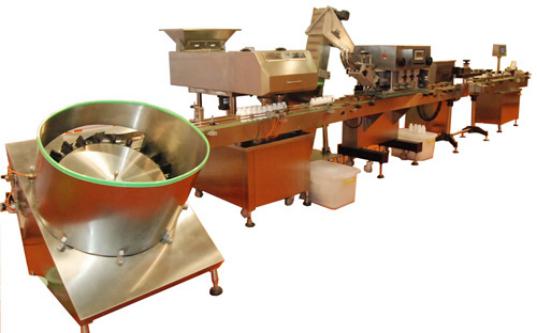 II. The relate Specification and parameter
1. SLP-200 Bottle Unscrambler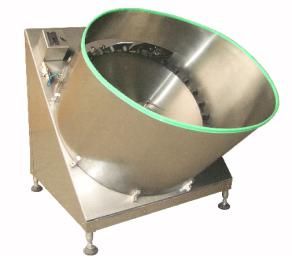 Descriptions
SLP-200 sorts round bottles automatically and place the containers on a conveyor at speed up to 100cpm.This uncrambler adopts electronic timing system .The operation is easy and stable .It is useful widely in the pharmacy ,food & beverage ,cosmetic & personal care industries.

Key Features:
Speeds up to 100cpm
Handles plastic round, rectangular or square bottles.
No-tool changeover
Operation stable and lower noise.
Full-set protecting device keep operation steady and reliable.
Stainless steel frames and cabinets.
Technical Parameters
Sorting Speed: 40-100 Bottles/minute
Bottle Size :customized based on the requirements.
Dimensions :1000mm x 1100mmx1300mm (Length x Width x Height )
Weight :280KGS
Electric Requirements:
-- Power: 500W ,Voltage220V ,Frequency:50-60 HZ ( Optional )
Working Direction :Left ---Right ( or Right --- Left )
2. GS-Series Multi-Channel Grain-counting Machine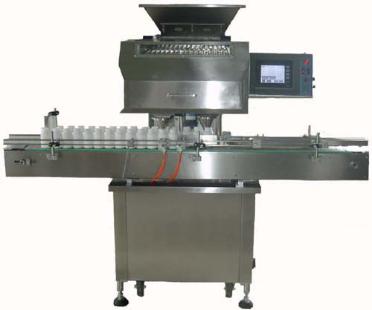 Descriptions
GS counts grain through 16 strips of channel ,medicament can lay off through passing two classes automatically ,falling medicines is uniform and counting tablets is precise ,being suitable for all kinds of single bottle filling quantity and tablet type, changing variety without replacing and mould .It adopts the sensitive technology of the CCD and its distinguishing rate is high ,responding speed is fast ,and the operating is the man machine interface touch screen .Adopting international name brand photo-electricity controlling system ,controls when bottles are lacking and blocking ,then cease automatically ,the operating is stable and reliable .Materials touching with the medicine conforms to the requirements of GMP.
Technical Parameters
- Shake type :12 channel 16 channel ,24 channel ,32channel high speed
- Counting precision :( ≤ 1/1000 )
- Working steady-going low noise.
- working continually ,change bottle no stop.
- Applied to all kinds of specification ,shape grain tablet package.
- Double way supply bottle .be sure the jam when quick filling .
- Intelligentized design ,there are automatic test system, failure clue. alarm . stop machine function , operate freely .safety and reliable .
- airproof dustproof ,discharge clearly and freely. cover GMP standard.
3. DI-200 Desiccant Filling Machine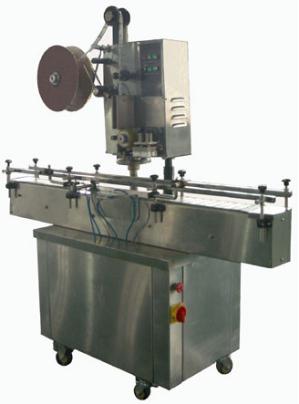 Descriptions
DI-200 is economical and easy to operate .The machine can automatically cut off the belted desiccant and insert it into the container accurately and speedy . This fully
automatic cottoner inserts a predeterminded length of cotton ,rayon or polyester coil into containers at speeds up to 80 cpm

Key Features :
Insert speed up to 80 cpm
Heavy duty construction
Guillotine tearing device.
Technical Parameters
Insert Speed : 40 - 80 Bottles /minute
Dimensions : 1600mm x 600mm x 1500mm ( Length x Width x Height )
Weight :250 KGS
Electric Requirements:
-- Power: 1500W ,Voltage220V ,Frequency:50-60 HZ ( Optional )
Working Direction :Left --- Right ( or Right --- Left )
GX-200 High Speed Capping Machine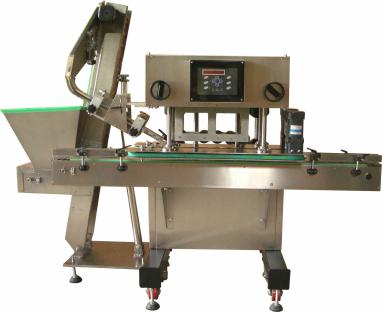 Descriptions
GX200 is economical, and easy to operate. This versatile in-line capper handles a wide range of containers at speeds up to 200 bpm and offers a quick and easy changeover that maximizes production flexibility. The tightening discs are gentle which will not damage caps but with a excellent capping performance.
Key Features:
- Capping speed up to 200 CPM
- One button to adjust height
- Wide applicability for various caps and bottles
- Auto stop and alarm when lack of cap
- Stainless Frame
- 3 sets of tightening discs
- No-tool adjustment
- Choice of various types of cap feeders
Technical Parameters
Specifications:
- capping Speed: 50 - 200 bottles/minutes
- Bottles size: Φ30 - 120 mm, height (can be customized based on the requirements)
- Dimensions: 1800mmx850mmx1850 mm ( Length x Width x Height )
- Weight: 450kg
- Electrical Requirements:
--- Power:1000W, Voltage: 220v, Frequency: 50-60HZ (optional)
Industry Type(s)
- Cosmetic /personal care
- Household chemical
- Food & beverage
- Nutraceuticals
- Pharmaceuticals
JF-2 Aluminum Foil Sealing Machine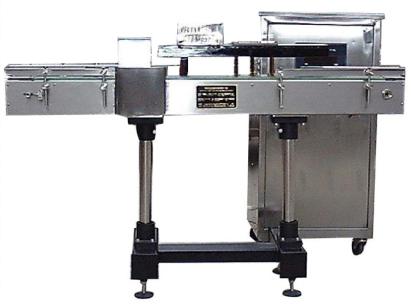 Descriptions
JF-2 is new generation production which adopts electromagnetic induction technical .The machine is economical and easy to operate .This machine is Applied to food ,pharmaceutical ,chemical , commodity industrial all kinds of vessel mouth aluminum foil sealing .Transistor type electromagnetism compound aluminum foil machine is a new vessel sealing machine .applied to glass bottle and plastic bottle after filling the medical ,chemical ,food , cosmetic or oil plants sealing process .adopt the compound aluminum foil sealing can valid avoid the inner goods overflow or wet ,so advance the medical or food period of validity .and good to down the produce and freight.
1.Operate is freely .safety and depends .cool water extra temperature or turnoff stop and alarm .
2.working is steady and no noise.
3.test automatically .delete the cap without the aluminum foil.
Technical Parameters
1.Product capacity :50-120 bottle/min (base the detail diameter )
2.the diameter of the bottle mouth ∮20 - 80mm
3.The high of the bottle :50 - 150mm
4.Motor power :2KW 220V 50~60 HZ (Optional )
5.Working Direction :Left --- Right ( or Right --- Left )
6.Overall Size :1600 x 600 x 1300 mm
7.Weight :180KGS
DLTB-A Labeler machine (with PLC & Touching Screen)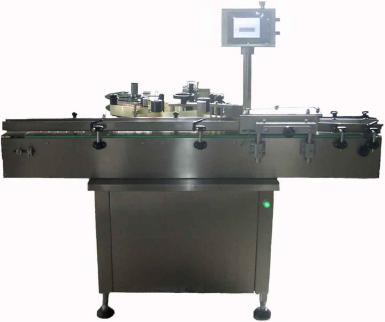 Use & Features
This machine is applied in the paste labeling of various cylinder bottles. The to-be-label -led bottles are transferred by transferring belt (or screw).The label is sent by the label box to glue into the paste disk .The label in the paste disk is turned to the print area to automatically print the series number. The label belt is sent by the paste disk and the label sticks to the label belt .When it is turned to contact the bottle, it will automatically stick to the bottle.
All kinds of circularity labels for comprehensive application
The control by PLC.
Touching screen - easy operation
Coding system ( Optional)
Technical Parameters
Bottle Specification: OD30-100mm Height 30-200mm
Capacity 80 - 200 bottle/min
Power :300W
Voltage :220V, 50-60 HZ .110V (Optional)
Size :1600 x 700 x 1400
Net weight :200 KGS
ZP-C Collecting Turntable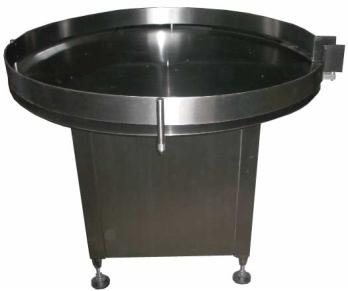 Descriptions
For collecting bottles from conveyor
Technical Parameters
The diameter is 600 mm, 800mm, 1000mm, 1200mm