YDF series Mini electric liquid filling machine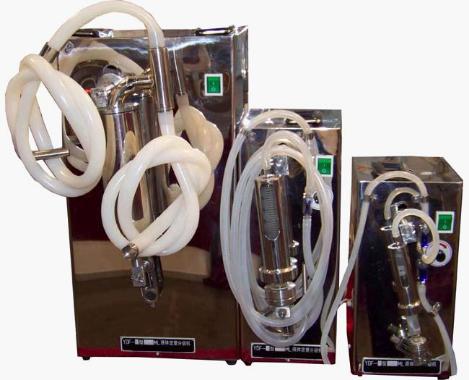 Descriptions
The machine is a mini filling machine. It is applied to quantitative fill liquid into various containers by electric.
The machine is widely used in lab, hospital, school, foodstuff and beverage factory, pesticide factory, and so on. Such as eye drops, ampoule injection, vial injection and various beverages etc.
Features
- All parts of this machine are made of high quality stainless steel, no pollution, easy cleaning, meet the GMP standard.
- Its structure is simple, easily operation and maintenance.
- The filling volume can be adjusted easily, the minimum filling volume is 0.2 ml, its Filling accuracy is very high, so it is an economical and applied filling machine.
- The power adopted a type of fixed gear transmission, adjusted speed by electric, Work smoothly and low noise.
- The metric pump is adopted a type of GCB4B filling machine, this machine won National silver award, the piston is adopted the innocuous and wearable sealing circle, so the piston has compact structure, good sealing and long useful time.
Technical Parameters
| | | | | |
| --- | --- | --- | --- | --- |
| Model | YDF-1 | YDF-5 | YDF-10 | YDF-30 |
| Work type | electric | electric | electric | electric |
| Filling volume | 0.2-1ml | 1-5 ml | 2-10ml | 5-30 ml |
| Filling accuracy | +-/ 0.5% | +/- 0.5% | +/- 0.5 % | 1% |
| Filling speed | 40 bottle/min | 40 bottle/min | 40 bottle/min | 20bottle/min |
| Power supply | 220V/20W | 220V/30W | 220V/60W | 220V/120W |
| Weight | 3 kg | 4 kg | 5 kg | 5 kg |
| Overall size | 20X23X36 cm | 20X23X36 cm | 31X26X53 cm | 35X38X54cm |
| | | | | |
| --- | --- | --- | --- | --- |
| Model | YDF-50 | YDF-100 | YDF-250 | YDF-500 |
| Work type | electric | electric | electric | electric |
| Filling volume | 10-50ml | 20-100ml | 100-250ml | 200-500ml |
| Filling accuracy | +/- 1% | +/- 1% | +/- 1% | +/- 1% |
| Filling speed | 20boottle/min | 20bottle/min | 15bottle/min | 12bottle/min |
| Power supply | 220V/200W | 220V/200W | 220V/300W | 220V/300W |
| Weight | 20 kg | 20 kg | 15 kg | 12 kg |
| Overall size | 35X46X54 cm | 35X46X54cm | 35X46X54cm | 38X46X65cm |