DPP-140Y Liquid blister packing machine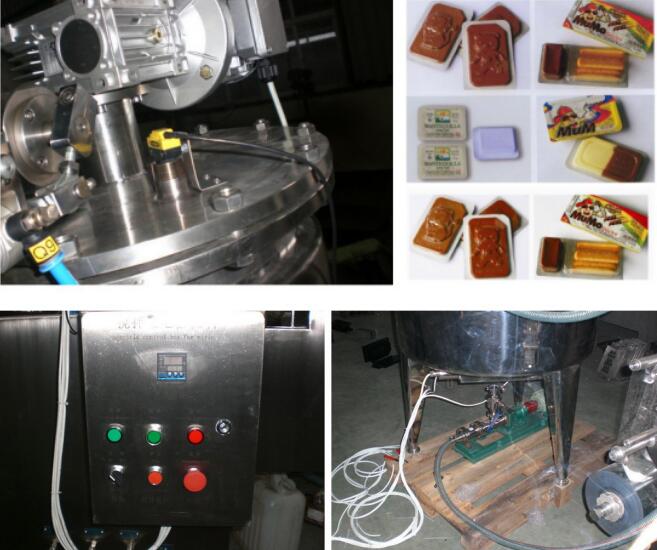 Descriptions
This machine is suitable for packing the liquid like chocolate, butter and jam etc.
This machine is widely used in foodstuff, pharmacy and chemical etc industries.
Procedure:
- Forming film of reel support with automatic unwinding system.
- Paten heating system.
- Compressed air forming station.
- Automatic filling device.
- Cover foil reel support with automatic unwinding system cover foil unwinding system.
- Guide rails.
- Sealing station.
- Punching station
- Waste winding unit.
Features
- PLC touch screen control system.
- All materials contact parts are in S.S.316L, The main body of the machine is Fabricated out of SS 304, Meet the GMP standard.
- With automatic liquid feeder.
- Compact and simple structure.
- Platen sealing.
- Automatic rejection of blisters.
- CE certificate.
Technical Parameters
Blanking frequency

20 - 40 times/min

Blanking plate

2 - 3 plates/hour

Adjustable scope of travel

30 -100 mm

Production capacity

2400 - 4200 plates/hour

Maximum forming area and depth

140 x 100 x 18 mm

Specifications of packing material(Medical PVC):

(Medical PTP):

150 x 0.25(0.15 - 0.5) mm

150 x 0.02 mm

Power

4 KW

Power supply

AC, 220V/50HZ 1 phase

Air consumption

≥ 0.15 M3/min(self-prepared)

Air pressure

0.6 MPa

Net weight

900 kg

Overall size

2200x750x1650 mm