DPP-250Y Liquid blister packing machine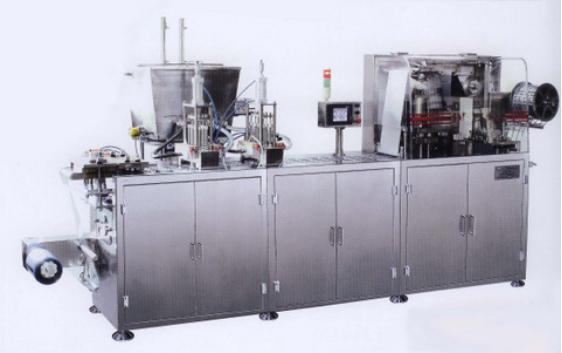 Descriptions
This machine is suitable for packing the liquid like chocolate, butter and jam etc.
This machine is the latest medicine and food packing machine which has a high quality and a high output. It has the advantages of improving the efficiency and reducing the cost. It is the first-choice packing equipment of producing of vocations such as pharmacy and food.
This machine can be linked to produce with boxing machine and pillow packing machine.
Procedure:
- Forming film of reel support with automatic unwinding system.
- Paten heating system.
- Compressed air forming station.
- Automatic filling device.
- Cover foil reel support with automatic unwinding system cover foil unwinding system.
- Guide rails.
- Sealing station.
- Punching station
- Waste winding unit.
Features
- PLC touch screen control system.
- All materials contact parts are in S.S.316L, The main body of the machine is Fabricated out of SS 304, Meet the GMP standard.
- With automatic liquid feeder.
- Board-shape mould, forming with air pressure, being suitable for standard of any former.
- Roller-thread hot-sealing, good sealing effect, light-electricity location, accurate synchronization.
- Across non-waste sides' punching can save about 200,000 materials every year.
- Production's landscape orientation's output can supply convenience to the boxing machine and pillow packing machine.
- Compact and simple structure.
- Platen sealing.
- Automatic rejection of blisters.
- Alarm system.
- CE certificate.
Technical Parameters
| | |
| --- | --- |
| Maximum packing speed | 25 times/min |
| Maximum capacity | 400 blisters/min |
| Forming materials | PVC/PVDC,PET |
| Maximum forming area | 250 x 150 mm |
| Maximum forming depth | 30 mm |
| Power | 5.7 KW |
| Power supply | AC, 380V/50HZ 3 phase |
| Air consumption | ≥ 0.22 M3/min(self-prepared) |
| Air pressure | 0.6 MPa |
| Net weight | 1500 kg |
No.

Designation

Type and specification

Made company

Quantity

1

PLC

E-view

1

2

Programmable controller

S7-200CPU224

German

Siemens

1

3

Expand the module

EM222

1

4

Temperature module

EM223

2

5

Circuit breaker

5SX23-D15

4

6

5SX23-D25

1

7

5SX23-D10

5

8

5SX23-D3

1

9

Solid relay

3G3JV2.2

Japan Omron

1

10

Small-scale relay

LY2NJDC24V

11

11

Proximity Switch

TL-Q5MCI

6

12

electrical source switch

S-15-24

Taiwan Mingwei

1

13

Color specification photoelectricity

KTBG-N1116

German SICK

1

14

Electromagnetic valve

SY5120-4D-01

Japan SMC

4

15

Electromagnetic valve

AW3D-03DDG

1

16

motor

Y90L-6 1.5KW

Anhui Wannan

1